geometry dash 2 is a new game for roptop released in 2017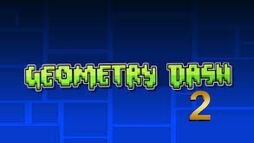 The main menu is identical to the previous game
sterio master
back on adventure
polargeist boss
time machine II
everingting theory
sky world
jumper of levels
the new theory
red moon (frist demon)
its a total of 20 icons and 3 ships
versions
Edit
1.0 : thee frist version of the game
1.1 : The first update of the game, added a level called harder jumper of levels, 1 icon and the black color (primary completing juemper of levels in practice) and the secondary for having 15 icons unlocked.
1.1_04 : Some bugs solved and a small patch for the game with the adjustment of the game's controls
1.2 : 2 new levels and the first demon cel game with 4 iconsAnd 3 new ship
1.2.1 :This small patch removes the secret way of red moon, implements a new interface and solves some bugs.
1.3 :1.3 was one of the best updates thanks to the implementation of the creative mode, saved online levels, search engine and missions. The missions were similar to the map packs but easier.
Galerry of the versions
Edit